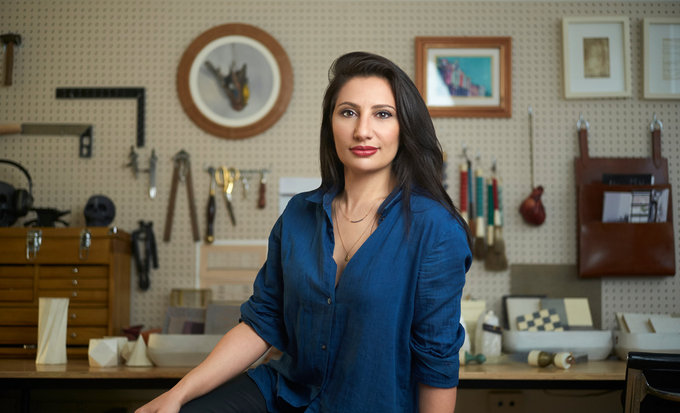 Born and raised in London, Christina Antonio credits her love of superior tailoring and craftsmanship to her father and grandfather's legacy. Her grandfather was a bespoke shoemaker from the Greek island of Cyprus and her father was also a leather artisan, specializing in handbag manufacturing. Her acute knowledge of leather artisanship is sharply evident throughout her expanding portfolio.
A graduate from the University of the Arts London, Christina's immediate work experience involved designing and manufacturing couture leather tailoring for several prominent UK-based designer labels. She collaborated with Charlotte Ronson on her debut collection of shoes, a campaign that garnered substantial critical acclaim. Upon relocating to New York in the late 1990's, Christina sought out a position within Manhattan's fashion elite: a prominent role within the Costume Design department of Sex and the City, famously helmed by Patricia Field and Rebecca Weinberg, as an assistant to the head stylists. Following her tenure on Sex and the City, Christina began working at Ed Libby & Company, a high-end event-designing company specializing in elaborate space interiors. As a curator of interior arrangement, Christina was able to use her expertise in fashion in a new, expansive realm.
In 2005, Christina founded Christina Z. Antonio Design, a New York-based leather artisan firm specializing in leather architectural applications for residential and commercial interiors. The company's distinct body of work encompasses modern luxury with a tailored perspective along with superlative attention to detail, function, and form.. As a purveyor of luxury leather goods within the high-end architectural world, Christina abides by traditional principles of craftsmanship by seeking out only the finest imported materials from Italy, France, and Belgium. Her lifelong appreciation for hand-wrought pieces of the highest possible quality ensures that her pieces display a nuanced excellent. An impressive catalog of bespoke furniture and architectural installations have led to many creative partnerships, notable among them a feature at 2012's Pitt-Pollaro debut furniture exhibition (the launch of Brad Pitt's architectural partnership with acclaimed designer Frank Pollaro). Her work is prominently featured at The Standard NY, The Greenwich Hotel, The Gramercy Park Hotel, The East Hampton Country Club in Long Island, and at The Rosewood London.
A strong reputation for quality, design, and craftsmanship has placed Christina Antonio at the forefront of the artisanal architectural world and has played a significant role in reinvigorating the current pursuit of classic leather pieces with Old World elegance. Her distinct fusion of European architectural sensibilities with the preciseness of modern insight and technique allows her to create the heirlooms of tomorrow: sturdy, sophisticated, sustainable pieces, handcrafted to last for generations to come.